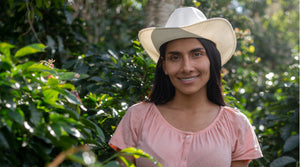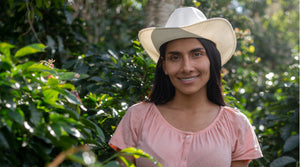 empowered women empower women
At Urban Calm, we are the only Canadian coffee company sourcing our coffee beans exclusively from women-led coffee farms. We believe that empowered women empower women, and we are proud to be in business with women-led farms. While you enjoy every sip, you can feel good knowing that you are making a difference and helping women in developing nations succeed. 
Did you know that globally women form the majority of the worlds estimated 25 million coffee farmers?
Most women are involved in lower wage production activities including harvesting and cutting, while men are involved more with the business side of farming including marketing and negotiating coffee sales. Women often don't have access to the necessary training in sustainable coffee practices, financial inputs, and other benefits derived from coffee sales.
While up to 80% of coffee farms are harvested and maintained by women labor, only 20-30% of coffee farms are female managed or led. Women are often held back by a variety of factors including societal boundaries, access to education and training, access to credit, and land ownership.
POWER OF SUPPORTING WOMEN-LED COFFEE FARMS
Tracing our coffee beans
At Urban Calm our coffee beans can be traced to a group of 53 women who work with the cooperative, ASPROTIMANA (works directly with women producers to establish coffee production from farms owned and managed by women) from Timana, Huila Department, Colombia.
The cooperative was founded on the principles of economic, social and environmental sustainability with a focus on quality-led production. Its aim is to invest a substantial part of the fair trade premium it receives in the community and in improving the quality of its members' coffee.
Over 80% of ASPROTIMANA's coffee production is shade-grown at high altitude, which leads to much higher quality beans and a lower yield.
The fair trade premium ensures a fair price which enables farmers to continue to invest in their farms and personal futures. The premium has paid for schools, a hospital, a warehouse, and even an agronomist to help members improve the quality of their coffee.
They have invested the premium in a number of projects including:
The construction of a micro factory including a coffee silo.
A technical assistance program for the farmers on best practices.
Revolving Credit: providing the farmers with access to credit to invest in their farms which is otherwise unavailable to them.
Improving the housing and living conditions in the area for seasonal workers.
Marketing Fund: generating increased coffee sales through marketing their coffee to international buyers.
A Risk Management strategy.
SENA (National Learning Service)
With the support of Servicio Nacional de Aprendizaje (SENA), 53 women have emerged with the skills to process specialty coffee using their own micro-mills. Cultivating coffee on just a few acres of land intercropped with shade trees, bananas, corn, and beans lends to careful post-harvest practices including hand sorting cherries before de-pulping, fermenting, washing, and drying the coffee using their own micro-mills.
SAN MIGUEL (Exporter)
After processing, ASPROTIMANA works with an export company called San Miguel, a family-owned company based in Huila that focuses on bringing traceable micro-lots to the international market. The partnership ensures traceability and quality control throughout the post-harvest process and a mutual goal to improve the quality of life for coffee producers and their families through internationally marketing women's coffee to gain improved premiums. wider market, and vice versa.