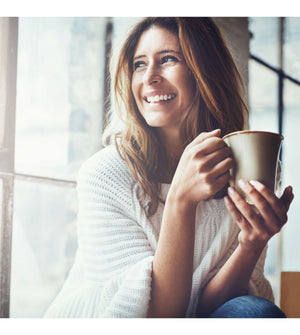 Urban Calm has Women at the Forefront
Our coffees have personalities and have been created with a woman's taste in mind. Did you know that woman prefer sweeter coffee, whereas men tend to like it more bitter? It may not surprise you, but women are more likely to reach for the sweeteners to dress up their brew, while men are more likely to go for no room, straight up black. Our coffees have been roasted with this in mind.
Our Focus: Roasting to highlight and elevate the natural sweet chocolate and caramel tasting notes to bring out as much sweet flavor as possible. We strive to produce coffee that is so tasty and appealing to the palette that it reduces the urge to reach for calorie-laced sweeteners to achieve a delicious cup of coffee.
All the Flavor, No Filler!
We've curated our coffees to provide something for everyone. Whether you're in the mood for something balanced and relaxing (try our Centered roast), something lively to keep you moving when you're on-the-go (check out Onward roast), something to inspire you and unlock your inner creativity (unplug with Dreamer  roast), or seeking something bolder with some attitude to bring a little roar to your day (meet the Queen of the jungle with our Lioness  roast), at Urban Calm, we have you covered!
At Urban Calm, our coffees and teas deliver the comfort and fuel that help you seize your moment so you can take on your day with a feeling of I've got this! Perhaps you are seeking a moment of calm before a busy day, a boost to go the extra mile, or a chance to meet up and laugh with friends and family.
Each sip creates your own personal moment and experience.
Whatever your moment is, Urban Calm is with you.
For any coffee lovers that suffer from tummy troubles from their morning cup of java, our reduced acid Dreamer Dark Roast is for you. Its reduced acidity makes it easy on the stomach. Enjoy all the taste without the undesirable side effects!
But, before roasting, tasting, and relaxing with a good cup of coffee begins, we start by sourcing our green coffee beans from women-led coffee farms. Although women are heavily involved in coffee bean farming work, with 80% of coffee farms harvested and maintained by women labor, only a fraction, 20-30%, of coffee farms are female managed or led. Women are often held back by a variety of factors including societal boundaries, access to education and training, access to credit, and land ownership.
When women lead or manage a coffee bean farm, it uplifts and empowers women, their families, and their communities through financial empowerment and social elevation and influence.
While you enjoy every sip, you can feel good knowing that you are making a difference and helping women in developing nations succeed.
As the saying goes, empowered women empower women. We are proud to be in business with women-led farms.